Tandem Axle Heavy Duty 1999kg – 2499kg – 3499kg
Tandem axles start at 1999kg gross weight for those users that need a lot of carrying capacity. Heavier rating options are available for those users that have really heavy carrying needs.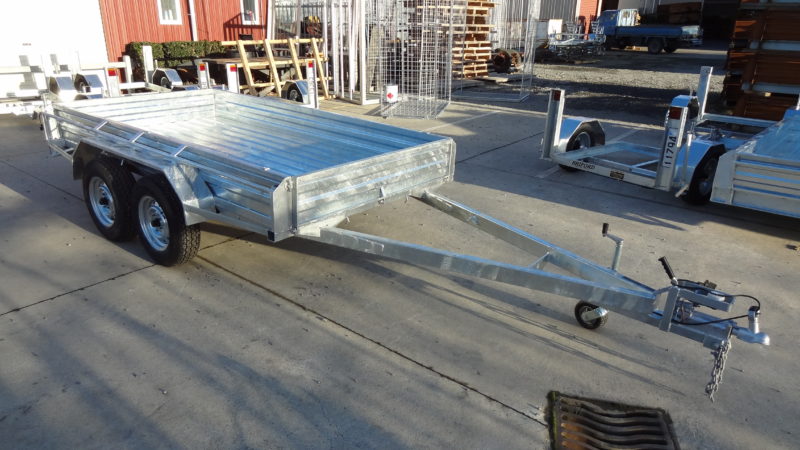 Standard Features
Heavy Duty Tandem Range
Full length tie rails each side
Hinged front and rear doors
Wellside body with 300mm deep sides
400mm deep sides available on 8 foot models
Stylish wrap-around mudguards
Christchurch made 4 leaf equalizer springs
Gross capacity 1999kg with 2499kg and 3499kg options
Strong RHS chassis and drawbar
Hot dip galvanized
1500kg or 1750kg hubs & stubs per axle depending on model
Full multivolt led lighting and wiring including ( flat or round plug )
Full Warranty
Extras Available
Winch tipping
Electric hydraulic tipping
Jockey wheels
Mounted spare wheel
Stock crates
Canopies (metal and vinyl )
Ladder racks (40 RHS) available in 4 heights
Brakes – hydraulic override disc brakes on 1999kg or 2499kg
This range of trailers can be upgraded to 2499kg or 3499kg gross capacity.
Note: Trailers are set up for a towbar height between 370 & 430mm. Equalizer function is greatly improved if the towbar tongue height of the tow vehicle is supplied with order. Tow vehicles should be rated to tow the necessary weight, including a rated tow bar.
Sizes Available
8×4 (2440 x 1230)
8×4'6 (2440 x 1370)
8×5 (2440 x 1520)
9×4 (2740 x 1230)
9×4'6 (2740 x 1370)
9×5 (2740 x 1520)
10×4 (3000 x 1230)
10×4'6 (3000 x 1370)
10×5 (3000 x 1520)
Note: All 10ft long trailers are 3 metres (118.5 inches) long.
Sample photos
Below are photos of different Tandem Axle models. All Briford tandem trailers can be supplied with a variety of extras (including crates, covers, optional weight ratings, tipping options, jockey wheels, spare wheel and more).