Farm Type Trailers
We call these Farm Type but they are used in many industries for easy loading and convenience. We now have two versions of this transporter available. Popular demand has caused us to introduce a lower deck model. See photos below.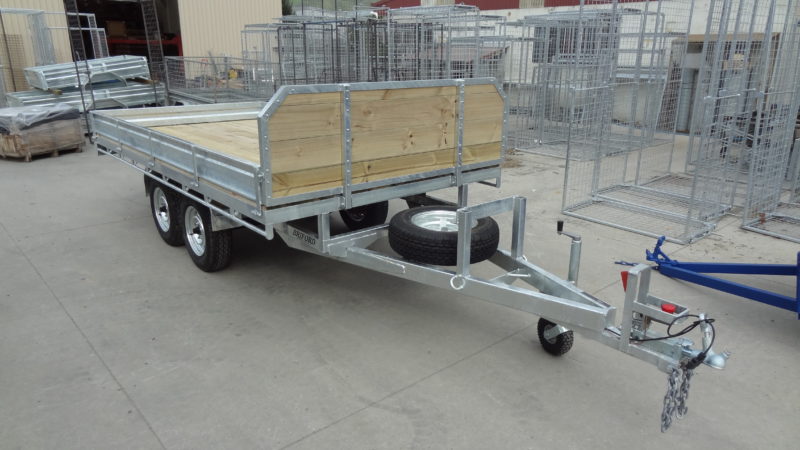 FEATURES
2499kg standard specification – 1999kg is an option
Suitable for fork lift side loading
Great height to work off as bench/table etc
1750kg (per axle) hubs
8 ply 14″ tyres
8 ply spare mounted
Jockey wheel
Full length heavy duty tie rails
Equalizer springs
Hydraulic disc override brakes
Fixed steel-framed plank head board and ribbed-steel drop sides
Strong RHS chassis and drawbar
Full multivolt LED lights and wiring
Double safety chains
Painted or hot dip galvanized finish
Full Warranty
OPTIONAL EXTRAS
Hinging headboard
Removable headboard
Without drop sides, taildoor and headboard
Treated shiplap timber deck
3499kg gross option includes; 4 wheel electric in-cab control brakes (cab controller supplied but not fitted), and tearaway system. European brake system also available.
Note: Tow vehicles should be rated to tow the necessary weight including a rated drawbar. Please specify tongue height when ordering.
SIZES AVAILABLE
10 x 5
10 x 6
12 x 5
12 x 6
Others sizes can be built to order
Sample photos
Below are photos of different farm type trailer models.