Furniture Trailers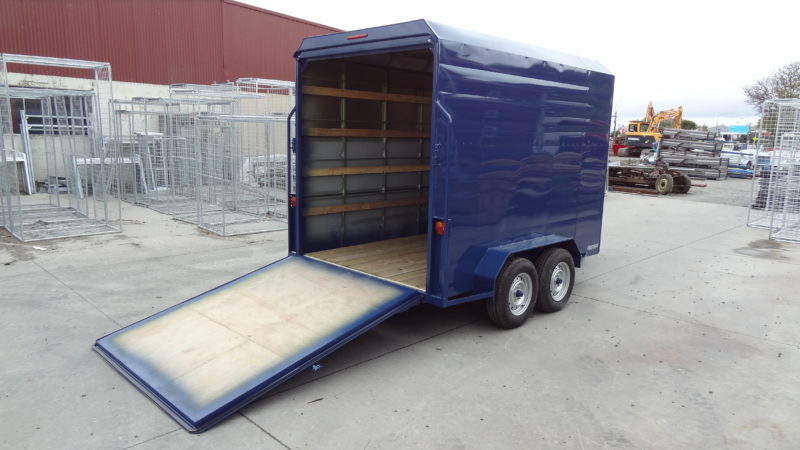 FEATURES
The following features are based on the standard Tandem 2499kg models. See below for other options.
2499kg gross weight
1750kg hubs & stubs
800kg tare weight
Upper body – alloy
Lower body – fully welded 18g steel
Strong RHS chassis and drawbar
Steel and alloy clad steel frame etched primed and painted
8 ply 14″ tyres
Draw-bar mounted 8 ply spare
Jockey wheel
17mm ply ramp rear door
Treated Shiplap deck
4 x 12mm tie rails
Four 25mm x 75mm timber battens each side and front
Drop axles (lowers deck height) with equalizer springs
Braked (hydraulic override disc front axle only)
Spring assisted rear ramp door
Full multivolt LED lights and wiring
Dual chains
2100 high
WEIGHT OPTIONS
1750kg – This is the standard single axle specification non braked (drum or disc brakes optional) – 1500kg is an option
2499kg – Tandem – this is the standard tandem specification with hydraulic disc brakes – 1999kg tandem is an option
3499kg – Includes 4 wheel electric in cab control brakes (controller supplied but not fitted), handbrake, tearaway and heavier chassis and drawbar construction. European 4 wheel brake system available as an option
Note: Please specify drawbar height of tow vehicle when ordering. 2499kg/3499kg models need tow vehicles rated to tow the necessary weight including a rated towbar.
SIZES AVAILABLE
8×4'6 – Single axle 1750kg
10 x 6 – Tandem 2499kg
12 x 6 – Tandem 2499kg
Other sizes can be built to order
Sample photos
Below are photos of different furniture trailer models.