Shuttle Trailers
The range of Shuttle Trailers is vast and is used for many types of uses from luggage, tourism, builders, plumbers, painters, hire, display, BBQ's, drainage, camping, schools etc. Their uses are only limited by your imagination.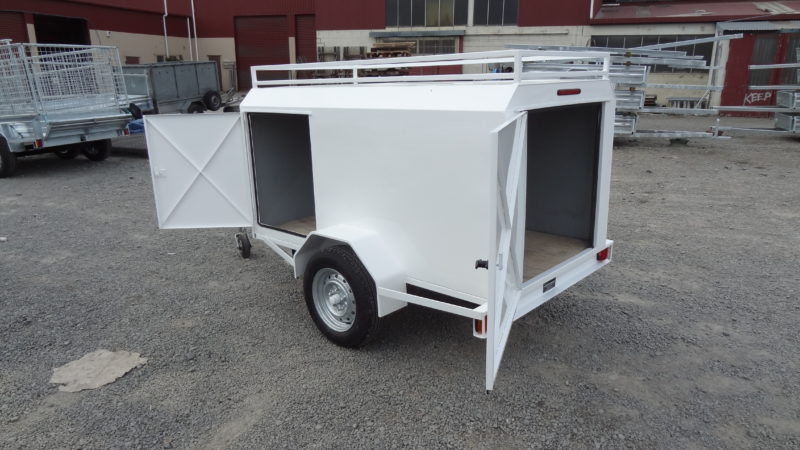 FEATURES
18g eg. (Electro Galvanized) sheet metal body work
1500kg Hubs and Stubs
Lockable rear door
Undercoated and painted any solid colour
RHS Chassis and 1200mm Drawbar
Ply Floor
Christchurch made springs
Dimensions inside height 1 metre
Full multivolt LED lighting
Flat or Round plug
Eye level brake light
Plunger coupling (lever optional).
Note: Please specify drawbar tongue height for Tandem Shuttle.
BASE SIZES AVAILABLE
1m High Model
5×4 – 1.8 m³
6×4 – 2.2 m³
7×4 – 2.5 m³
8×4 – 2.9 m³
8×4 Tandem – 2.9 m³
1.5m High Model
5×4 – 2.7m³
6×4 – 3.3m³
7×4 – 3.8m³
8×4 – 4.3m³
8×4 Tandem – 4.3m³
EXTRAS
Jockey wheels (solid or Pneumatic tyre)
Mounted spare wheel
Brakes – Hydraulic Drum/Disc
Ladder Racks 50kg max weight
Racks – Trade (Gib), Luggage, Ski, Ladder – See below
Cycle Rack Mount & Ball
Shelving
Side door
Top Hinged side door on prop rods
Top Hinged side door on Gas Struts
Double Rear doors
Keyed alike when there are multiple doors
Extra Height to 1500mm max
Extra Width to 1500mm max
Drop Stands
Louvered/rotary Vents
Container Hinges
Container Locks, Hinges & Seals
4 or 8 Ply Spare Wheel
1600 Drawbar
Gull Wing on Gas Struts
Clam Shell Side Opening on gas struts on 5, 6, 7ft models
Interior Light
Reversing Light
Shaped front – 600mm or 1200mm long
Sample photos
Below are photos of different shuttle trailer models. All Briford trailers can be supplied with a variety of extras (including jockey wheels, spare wheel and more).